[google_map_easy id="1″]
hotDesks Locations
hotDesks is a network of coworking spaces throughout Maryland's Eastern Shore.  "If  you are a member of one location – you are a member of ALL locations."  Memberships are available as low as $25/month.  This is an effective way to access the statewide startup and entrepreneur ecosystem.
Six Eastern Shore locations include: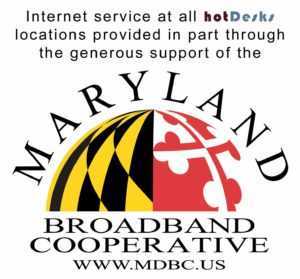 Reciprocity Locations
In pursuit of creating opportunities for Eastern Shore entrepreneurs, investors, mentors, and coaches to collide and interact with the same from the rest of the Maryland statewide ecosystem, hotDesks has initiated reciprocity relationships with incubator, coworking, and accelerator communities in the Baltimore/Washington corridor.
• ETC (Baltimore, MD) – Founded in the late 1990s as a non-profit 501(c)3 venture of the Baltimore Development Corporation, the ETC (Emerging Technology Centers), promotes economic growth by providing its member companies with the resources they need — seed capital, mentors, potential partners, a collaborative community, etcetera — to get where they want to go, as quickly as possible. Over the years, hundreds of companies have passed through our doors, creating thousands of jobs, and raising billions of dollars in outside funding.
• Maryland Innovation Center (Columbia, MD) – The Maryland Innovation Center is an initiative of the Howard County Economic Development Authority.  It provides a robust, interactive community of innovators, entrepreneurs, investors and advisors collaborating to successfully ignite innovation and launch high-growth, technology-based companies in an entrepreneurial ecosystem abundant with resources.  Centrally located in Columbia, it leverages its position in the heart of the Baltimore-Washington metropolitan corridor to deliver best in class resources and services.
• TheGIG (Exmore, VA) – theGIG is a coworking space and entrepreneurial center located on Main Street in Exmore, a town on the Eastern Shore of Virginia, about 60miles north of Norfolk, VA and 70miles south of Salisbury, MD.  theGIG has counter workspace, communal tables, lounge space, private desks (first come first serve) and a meeting room available for hourly rentals.   The atmosphere is designed to inspire both collaborative work and focused productivity.   We offer self-employed, small business owners and entrepreneurs of the Eastern Shore a place network, brainstorm, and work, while drinking as much coffee as needed to do so.